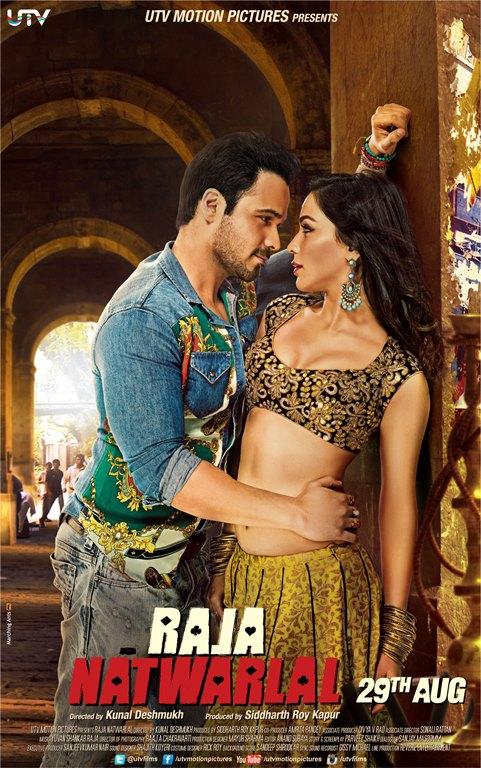 Music Composer: Yuvan Shankar Raja
Starring: Emraan Hashmi & Humaima Malik
The music of Raja Natwarlal has high expectations from the beginning. The Hindi music album not only has Emraan Hashmi's name behind it, but also South Indian music director, Yuvan Shankar Raja's. To raise the bar even higher the film's namesake the critically acclaimed, Mr.Natwarlal, which had a weighty music score with, Pardesia. Raja Natwarlal, starring Emraan Hashmi and Pakistani actress, Humaima Malik, is a romantic comedy, so expect a fusion of fun and passion.
Raja Natwarlal's soundtrack begins with Bollywood's favorite singer, Arjit Singh, singing Tere Hoke Rehengay. This song starts slowly at first with a slow piano and slowly melts into slow electronic beats. Our music director sticks with the usual Hashmi style of his former K.K songs, with the "Ooo ooo" that we saw in "Zara Sa" from Jannat 2 and "Tu Hi Meri Shab Hai" from Gangster. This songs toggles between dramatized keyboard, electronic beats, and guitar, and evolves into a Western classical song as the percussion picks up. There is quite a variety of instrumentals in this songs that are brilliantly swirled together with Singh's strong vocals, leaving nothing wanted. A truly unique song. 4.5/5
Yuvan Shankar Raja really brings in the South Indian flavor into
Dukki Tikki
. This fun dance number is exactly something you would expect to see in a comedy. Expect an interesting video paired with this one. Complete with whistling and horns, this song is one of the more pleasant different sounding songs that Mika Singh has done before. 5/5
The unconventional qawwaliesque number Kabhi Ruhani Kabhi Rumani is by far the best song on the Raja Natwarlal soundtrack. Intricate classical instrumentals pair beautifully Benny Dayal's voice to breathe life into the song. Just like Tere Hoke Rehengay it transforms dramatically, but in a more refined elegance. The slow tabla playing in the back with skillful chimes and piano sets this song apart from the typical qawwali number. 5/5
We have found Raja Natwarlal's item number in Namak Pare. Our music director is again able to offer something new to the table, utilizing popular singers Mamta Sharma and Anupama Amod in a different way. This song fuses Western instrumentals, classical Indian instrumentals, and the classic South Indian song. Anupama's voice works well to complement Mamta Sharma's voice, although he doesn't get much in. From the beginning this song is able to hook the listener. 5/5
The songs of
Raja Natwarlal
takes an unusual turn with
Flip Your Collar Back
. It is very catchy, and offers variety like its predecessors, but the hook of the song doesn't seem to work exactly. Perhaps because it gets really gritty and annoying with the "Flip your collar back off to the sides". This song seems like it could potentially turn into a popular dance craze, like Dhinka Chika, but it does not play too lightly on the ears. 2/5
Tere Hoka Rehengay (reprise) is sung by Shweta Pandit. This song tends very acoustic, and the softer beats allow Pandit's voice to shine brighter through. This song is refreshingly a lighter take on the original song, and besides the lyrics is not very similar from the original. As good as, if not better than the original song, this song truly shines as one of the masterpieces of the soundtrack. 5/5
Raja Natwarlal's soundtrack is by far one of the best of this year.The precision of the soundtrack surpasses all of Emraan Hashmi's previous soundtrack With almost every song having the potential to become a hit, this movie should propel further in cinema. Yuvan Shankar Raja does an amazing job of pulling all different types of genres and musical elements together to create a skillfully produced album.

My Picks: Kabhi Ruhani Kabhi Rumani, Tere Hoke Rehengay (reprise), Dukki Tikki, Namak Pare, Tere Hoke Rehengay