Starring: Sidarth Malhotra, Shraddha Kapoor & Ritesh Deshmukh
Mithoon has been composing hit after hit for the
Bollywood
film industry and he returns once again alongside Akit Tiwari for romantic thriller
Ek Villain
. The last time Mithoon paired with film director, Mohit Suri, was during the extremely successful album,
Aashiqui 2
. The
music
of
Ek Villain
is packed with just the melody and emotion that you would expect from a Suri film.
The album kicks off with the romantic number,
Galliyan
, sung solely by Ankit Tiwari, vocalist of the popular Sun Raha Hai from
Aashiqui 2
. Galliyan starts a little harshly with coarse guitar and then simmers down to a softer tone. Flute instrumentals melt magically with violin. Tiwari's vocals are slow and controlled as usual. 4/5
Galliyan (unplugged)
takes a more somber tone. It offers none of the grit Tiwari's Galliyan had and takes a route with just soft guitar and violin. The actress now singer Shraddha Kapoor starts the songs off with hauntingly beautiful vocals, and about three quarters of the way, Ankit Tiwari joins in, keeping on same vocal level as Kapoor. However, the unplugged version of Galliyan really hits its peak when the two sing in unison. Unlike most unplugged version
songs
, this song offers a totally different experience. 4/5
Banjaara
, takes a slow melodious, Sufi-esque journey. This particular song comes closer to your heart the most it listens to you. There is a subtle loveliness in the instrumentals, and Irfan's voice takes the right path. There is beauty in simplicity in this song, 4.5/5
Pakistani rocker, Mustafa Zahid, joins in the the soundtrack of
Ek Villain
with
Zaroorat
. We hear Zahid in his comfort zone, much like the
songs
he has given us for
Heropanti
and
Ragini MMS
, and for his band Roxen. Unlike it's predecessors,
Zaroorat
instills more pain and anger. Complex guitar amplifies his voice and takes the song to new heights. Mithoon is able to differentiate this song by complimenting Zahid's voice with unique dramatic instrumentals. 4.5/5
Continuing with
Ek Villain's
Pakistani
music
trend is Soch The Band's,
Awari.
The talent is no less than the usual artists coming in the industry. What separates Soch from the other Pakistani bands is its instrumental versatility. Joining Soch is the the female vocalist, Momina Mustesan. This song begins with staggered piano, which slowly mixes with Mustesan's ghostly vocals. The song dynamically transforms from a somber song into something more powerful with both guitar and sitar and Adnan Dhool of Soch's vocals. This is by far the most unique song on the album. 5/5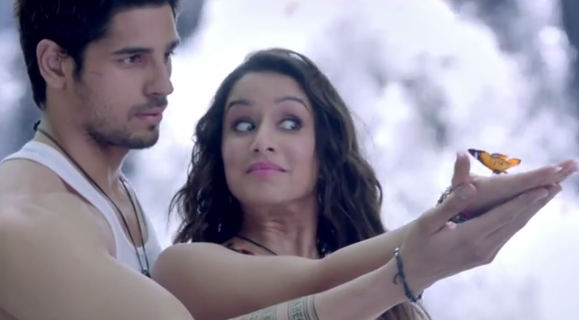 "Bugs!"
Arjit Singh offers something special in the emotional,
Humdard
. This song lyrically reaches into the trenches of romantic pain. Just like Galliyan, this song is controlled and slow, but doesn't offer has much complexity as the
songs
before it, except for the strange xylophone instruments that falls at intervals in between the vocals. Besides the vocal quality, this song too relaxed, and thus becomes almost boring. 3/5
All in all,
Ek Villain
delivers exactly what you would expect from a Mithoon and Ankit Tiwari soundtrack. With an array instrumentals and skilled talent from India and Pakistan, these composers were able to create an emotional, high quality
musical
score. We can only hope to see Mithoon and Ankit Tiwari collaborate with Mohit Suri in the future.
My Picks: Awari, Zaroorat, Banjaara, Galliyan, Galliyan (unplugged)