Music Director: Jaidev Kumar
Starring: Dolly Alhuwalia, Vinay Pathak, Ranvir Shorey, Tusshar Kapoor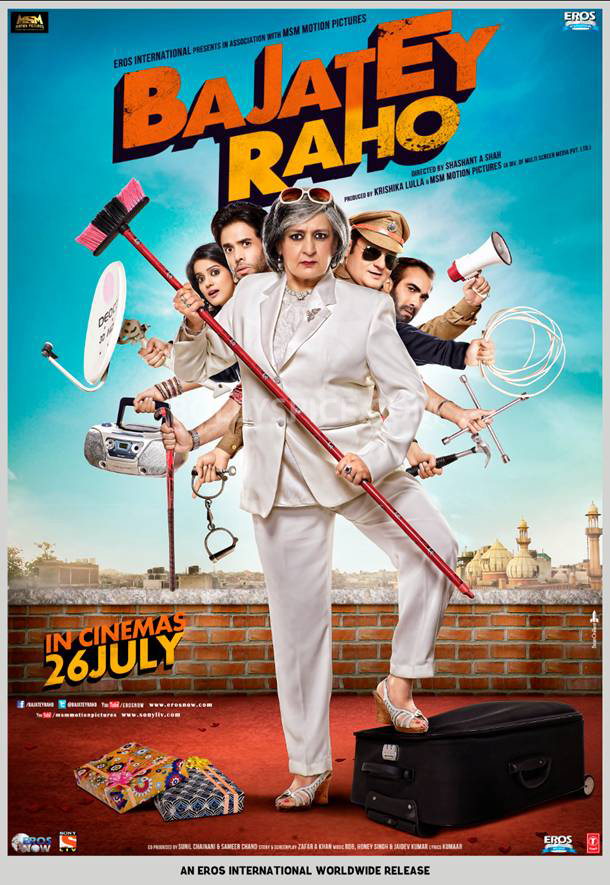 She has a broom and she's not afraid to use it!
For comedy with Vinay Pathak as the main star, we expect mast filled music. Jaidev Kumar, a relatively new music composer to Bollywood has much to prove with this soundtrack, and he achieves it for the most part. He gathers the Punjabi greats, like RDB and Honey Singh for his tracks in an attempt to create a wonderful soundtrack.
Bajatey Raho's
soundtrack begins with a fast paced number called
Nagin Dance.
This is the first item number of the soundtrack and it's not too bad. Anmol Malik's voice blends sinfully well with the quick tempo. Nagin Dance almost a contemporary tribute of "Main Teri Dushman" from Sridevi's
Nagina
. This song featured on the British model Scarlett Wilson, popular from
Shanghai's
Imported Kamariya, and Iranian-Swedish dancer Maryam Zakariya, has not really created a stir in Bollywood. Nevertheless, it is a unique kind of item number. 4/5
Our folksy qawwali-eque song,
Khurafati Ankhiyan
, sung by Sona Mahapatra has slight retro-seventies undertones with the harmonium. It is quite an interesting composition, but the hook Khurafati Ankhiyan is a bit too cutting for the gentle sounding song. Pretty average, but a good track. 3.5/5
Honey Singh brings in the comedy to
Bajatey Raho
with
Khudi Tu Butter
.
Our expectations should be high for a song with such an audacious name, but sadly this song doesn't live up to the hype. This song is Punjabi-electronica synth number. Again, this one is another item number, but its strictly an endless mediocre song. 3/5
I guess the Brits and Swedish also know about the
Nagin Dance. That's why these two are featured
instead of Indian dancers
So the theme song is
Bajatey Raho.
From the get go this song is a rap, and that's exactly what you can expect from out Punjabi rappers RDB. Manjeet Ral is also featured in the number. If you have heard any RDB previously, when you hear thing you will know this sounds exactly like their other songs. Further ruining this song is an English rap interlude. 2.5/5
So the remixes and reprises come in. Our first remade song in
Bajatey Raho
is,
Nagin Dance (Remix)
. This version just brings in extra beat and dubstep-ish sound in the background. Its a good alternative to the original, and does not upset the composition at all. 4/5
Then comes
Khudi Tu Butter (Reprise)
by Gajendra Verma. This one sound drastically different from the first song. It has a addictive almost magical, electronic beat which sets it apart from the other tracks on the soundtrack. This version of
Khudi Tu Butter
is extremely catchy both lyrically and musically when compared with Honey Singh's version. How could you resist the lyrics "Silky, chocolate hai milky"? A definite winner and probably the best song on the album. 4.5/5
Overall,
Bajatey Raho's
soundtrack isn't disappointing. The stronger songs compensate for the weaker songs. It's hard to resist a song called
Khudi Tu Butter
. C'mon and give it a try.
My Picks: Khudi Tu Butter (Reprise), Nagin Dance, Nagin Dance (Remix)
Check Out My Other Reviews!
Once Upon A Time in Mumbai Dobara:
http://bollywoodbegum.blogspot.com/2013/07/once-upon-time-in-mumbai-dobara-music.html
Nasha:
http://bollywoodbegum.blogspot.com/2013/07/luv-u-soniyo-music-review.html
Luv U Soniyo:
http://bollywoodbegum.blogspot.com/2013/07/nasha-music-review.html
Chennai Express:
http://bollywoodbegum.blogspot.com/2013/07/chennai-express-music-review.html
D-Day:
http://bollywoodbegum.blogspot.com/2013/06/d-day-music-review.html
Boyss Toh Boyss Hai:
http://bollywoodbegum.blogspot.com/2013/07/boyss-toh-boyss-hai-music-review.html
BollywoodBegum